Unboxing review NWA110AX from Spain

Alfonso
Posts: 257




Master Member
What is it? 
The NWA110AX is truly the next generation of wireless (WiFi 6) AP for businesses
looking for a most economical upgrade path to 11ax. Its built-in 2nd Generation WiFi 6
(Qualcomm 802.11ax 2.0) chipset allows the access point to take advantage of the full
range of WiFi 6 technologies including uplink OFDMA and MU-MIMO which can't be
found in earlier releases of 802.11ax products.
The NWA110AX boasts an impressive quad-core processor to provide consistently
smooth delivery to wireless clients. The NWA110AX is also built with premium power
amplifiers and 4G/5G interface filters to deliver superior quality of service that make it
one of the best in its class.
The NWA110AX has been designed to be highly efficient in PoE budget, allowing for
an easy upgrade path for those wishing to experience all that WiFi 6 has to offer without
the need to upgrade existing PoE+ switches.
As it comes with support for NebulaFlex, Zyxel's scalable, cloud-based management
system, the NWA110AX can be managed via NCC (Nebula Control Center) or simply
operate alone (controller less). You can choose the way that is best suited to your needs.
Hardware specs
Point-NWA110AX/specification
NWA110AX is Dual Band both 2.4 gigahertz and 5 gigahertz capable.
2x2 MU-MIMO Antennas.
2.4GHz: 575Mbps
5GHz: 1200Mbps but keep in mind that there is a single gigabit port in the back.(keep
in mind also these throughput measurements are not the amount of throughput that you
would get for a single client that is connecting to this device, that is the amount of
throughput for the multi-user mimo where each client is not going to get 1,7 megabits
No information about the CPU processor and RAM.
What's in the box?
- Warranty Card
- Mounting plate/drop ceiling mount
- Euro/UK plug
- Collection of screws and drywall anchors for drop ceiling mount and drywall
installation.
- Quick Start Guide (Different languages)
- Device.
Design
NWA110AX is a 180 x 180 x 39 white square that can easily fit on a shelf, wall, ceiling
or anywhere you have ethernet (and power).
The front has a status LED and Zyxel logo.
The back has Power, single Rj45 gigaethernet port (power and data input) and reset
button...


Onboarding. Installation and setup.

When the AP was received, Spain was in lockdown due the COVID-19. So all the tests
could be done at my own lab at home. Do not worry about it, as my home lab has
nothing to envy any other enterprise labs.
The target of the architecture is replacing several wifi routers (Netgear RAX120, Asus
ROG AC2900 and one Airties router provided by my ISP).
    - Netgear RAX120: used as wifi router for NON IOT (smartphones, laptops.
Ebooks …)
   - ASUS ROC AC2900: used as wifi router for IOT devices (Security Cameras,
Speakers, MEDUX…)
   - Airties: used as guest wifi router (and heavily used by my neighbour who does
not have Internet at home, but during the lockdown is using my Internet to
telework, telestudy, whatsapp videoconference and Netflix.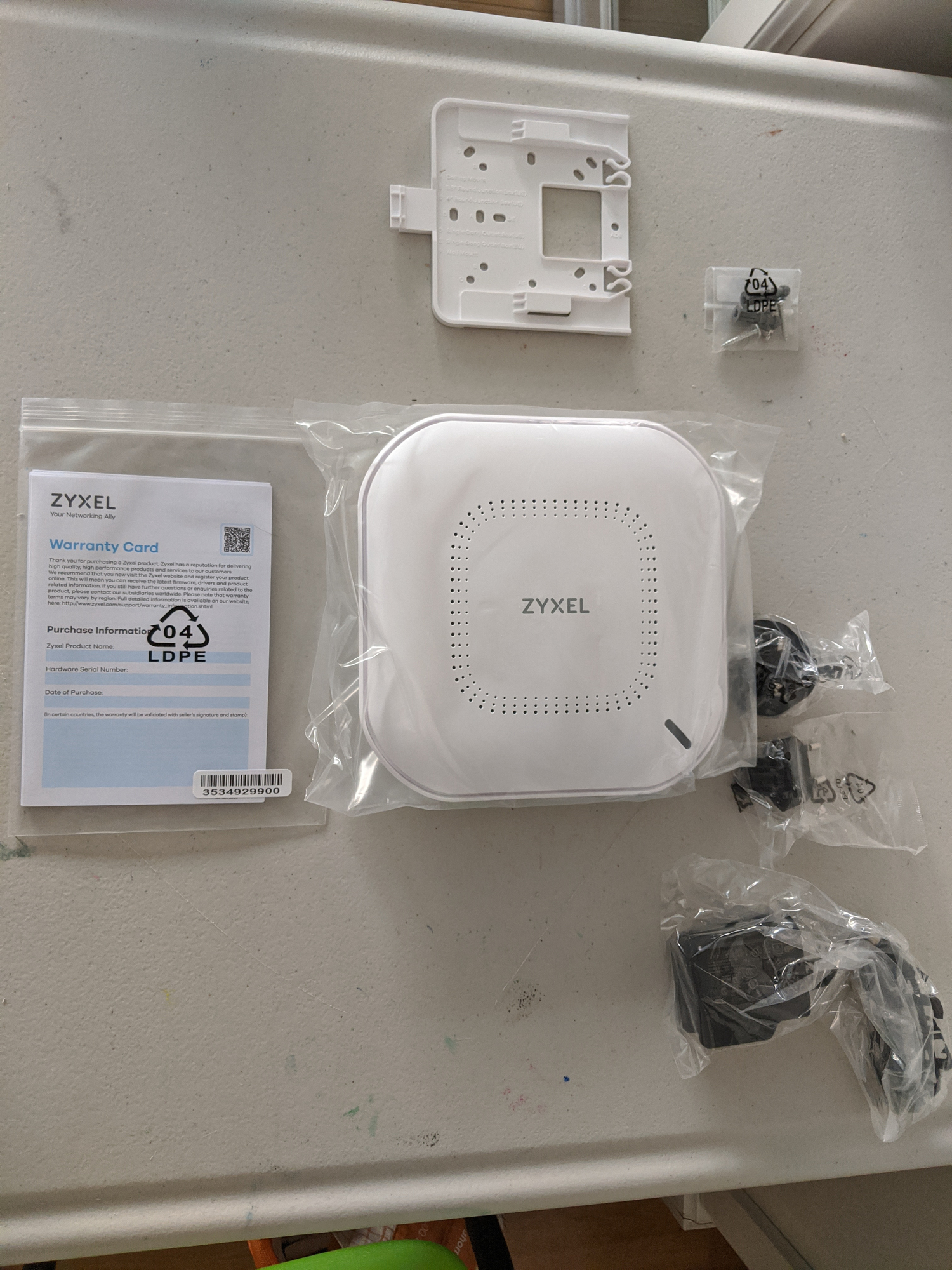 Yes, I know, they are do-it-all devices for a home network (they provide DHCP, DNS
for the LAN it connects), and not a professional AP as NWA110AX is (which means it
does rely on other devices to provide routing for DHCP or DNS.

Setup is really easy.
According to the instructions, there are several ways of doing the first install and set
up NWA110AX:
  - Cloud management
  - and standalone management.

If you are going to be running one or two Aps you could just set up via standalone
management. If you are going to be running multiple access points I really recommend
setting up via Cloud Management.

If you have a Nebula account (remember it is free), and your Organization is in place
you could very easily add new devices including the NWA110AX and expand you
network.

Anyways, Cloud management was my chosen to make the first install and set up the
device.

A Netgear Prosafe GS108PE POE switch (802.3 af/at) was used to make the first install,
to power the AP via Ethernet, and let the AP get an internal ip address via DHCP.


The device was manually registered to my Nebula account (Entering the NWA110AX
LAN MAC address and serial number (S/N) in the NCC configuration screen.).

Once NWA110AX was registered in the NCC, it was powered off and moved to the
current destination. Unfortunately, the current Core Switch is not POE. So the AP is
powered via the traditional way).

Legacy SSIDs were easily configured via the portal. Each SSID is using one unique
VLAN, so the traffic from each SSID is totally segregated. The layer 3 router is an
Ubiquiti Edgerouter X which blocks the flows inter VLANs, but it lets access to
Internet.
Features
It is difficult to cover all the functionalities and features. So I will explain only some of
them (my favourites).
Wifi Standard. IEEE802.11 ax/ac/n/g/b/a. Yes, it is a Wifi 6 device.
Multiple SSID (Nebula lets to configure until 8 SSID)
Bandwidth/rate limits. Who wants a guest client consuming all the throughput. Simply
limit the bandwidth for any SSID.
Wireless Security.
- WPA
- WPA-PSK (WPA/WPA2/WPA3)
- WPA-Enterprise (WPA/WPA2/WPA3). WPA3. Welcome to the future of Wifi
authentication.
Layer 2 isolation. You can interrupt communication between all devices of a network
via their MAC-Address.


MAC filtering. Basic and legacy access management.

Rogue AP detection. Interesting functionality which let us know if aomeone is
trying to attack/supplant our Aps.


Captive portal & Captive portal customization & Social Login. Facebook
authentication on the captive portal. It is possible to do social login authentication (with
Facebook) in the captive portal.


Nebula & Standalone Management.
You can choose.
What I like
Performance and quality. No problem/issues in a month. Excellent performance and it
provides the optimal coverage.


The device can be managed via the Nebula cloud portal. This helps a lot for admins
and it is easier to manage and deploy multiple devices or networks remotely. Real-time
status is a powerful "swiss knife" tool to see connected devices, the traffic, so problems
can be detected and solved faster. Using the Nebula app on mobiles, any network can be
managed from anywhere.


An "ocean" of functionalities and features. They let me control all the aspects of the
network.
What I'd change/I miss
POE injector. It is POE device 


Ultra thin Cat 6 white Ethernet cable. Come on Zyxel, a cable is cheap and it does
not take up space. A network device without a cable is like a toy without batteries.
SSID Limits. It looks it is limited to 8 SSIDs (At least via Nebula). It could be enough
for most of customers, but it must not be a limit for other customers who need more
than 8 SSIDs.


Skins. Other competitors, as Ubiquiti, have a bunch of different colors (woodgrain,
marble, black, camouflage that you can put on their devices ad change the look of
them). Skins can be used to blend APs in the background.


Easy ways (integrated APIs) to monetize Wifi Access via the captive portal. It can
be done via selling wifi to customers, and/or enabling other monetization paths
(Analitics, Advertising, Location services …)


SSID password QR picture. Once the SSID password is configured, a QR picture will
be very useful to print or to be captured by the mobiles, or to send to your staff …


Second gigabit port. Management flows and client flows could be physically
segregated.
Final thoughts
At a basic level if you are looking to get a better quality wireless network in your home
or office or your needs have just expanded beyond, Zyxel NWA110AX is exactly
what you are looking for.


Zyxel NWA110AX APs are bonafide entry level professional hardware.

I totally recommend NWA110AX and I am really interested in Zyxel's access point
series for further purchase consideration.
Zyxel AP is currently my Wifi product of choice.

My experience as a tester has really been satisfactory.

I hope to be chosen in the future to test more devices.
Comments