ZyWALL ATP configured L2TP VPN. Windows 10 doesn't connect.
I configured the L2TP VPN using: CONFIGURATION > Quick Setup > VPN Setup Wizard > VPN Settings for L2TP VPN Settings, and L2TP worked fine. Windows 10 was connecting.
And then I wanted to make sure that only certain users could connect. And created a group for VPN connection. In the Configuration > L2TP VPN > User, I specified a group for VPN connection:
And Windows 10 stopped connecting, error: "Unable to connect .... so the connection port is closed.
When I go back to the original configuration, everything works fine, Windows 10 connects.
I used these settings, because Windows 7 needs to be connected:
Phase 1 settings
:
SA Life Time: 86400
Mode: Main
Proposal: 3DES-SHA1
Key Group: DH2
Phase 2 settings
:
SA Life Time: 86400
Protocol: ESP
Encapsulation: Transport
Proposal: AES256-SHA1, AES128-SHA1, 3DES-SHA1
PFS: none
For L2TP connection "pre-shared key" and "user name and password" are used.
Configuring the built-in Windows 10 client: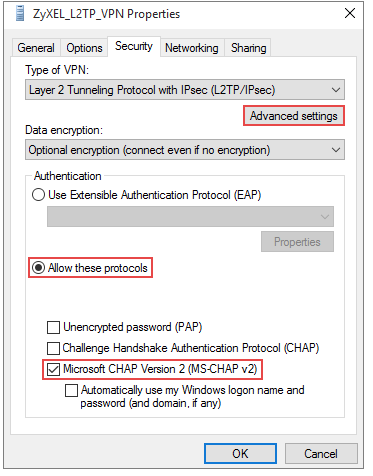 What could be the problem?
Tagged:
All Replies