NBG4115 Wake-on-Lan

latlive
Posts: 3


Hi,
I've been trying to set up a wake-on-lan feature on my NBG4115 router to wake up a home computer from my work though the Internet, but there is an issue.
This router supports WoL option (see image below).

I made it work, and I can wake up a local PC from this Depicus online tool:
However, the router stops responding to the WOL commands after a short time of inactivity (not being used by any device).
For example:
1) While at home (connected to the Zyxel router via Wi-Fi), I can wake up the PC using the Depicus online tool.
2) By the time I get to work (about 1 hour) and try to wake up this PC, it does not wake up.

3) When I get home after work, and (important !) just connect my phone to Wi-Fi, I can wake up the PC using the Depicus online tool.
4). If I don't connect any device to my Wi-Fi network, then the Zyxel router can't wake up the PC again.
5) If I reboot the router (remove and insert the power plug), then the router can wake up the PC using the online tool.
So, I figured that the issue is not the local PC itself, because it can wake up after any time of inactivity. The issue is with the Zyxel router, because if no device is actively using it, it stops responding to the WoL commands.
The router is set-up as a DHCP router, and the PC's MAC address and IP address are listed in the Static DHCP table (image 2). I also reserved the IP address for this PC (MAC address) - see image 3 - there is a checkbox on "reserve".
After reading about the issue, it looks like the issue might be due to a timeout of an ARP table. However, I don't see this APR table anywhere in this router.
If the APR table timeout is a known issue, then why did Zyxel implement the WoL function on this router but did not provide access to the APR table?
The last effort would be to connect to the router management (router GUI) from the internet, and then wake up the needed PC, but I don't really want to have an access to the router from the Internet. The WoL is available, and I should be able to use it.
The issue is that this Zyxel router stops responding to the WoL commands from the Internet if no devices are connected to the Router for some time.
Did anyone experience this issue, and are there any solutions?
The Firmware version is V1.00(BFS.7)C0.
Thanks!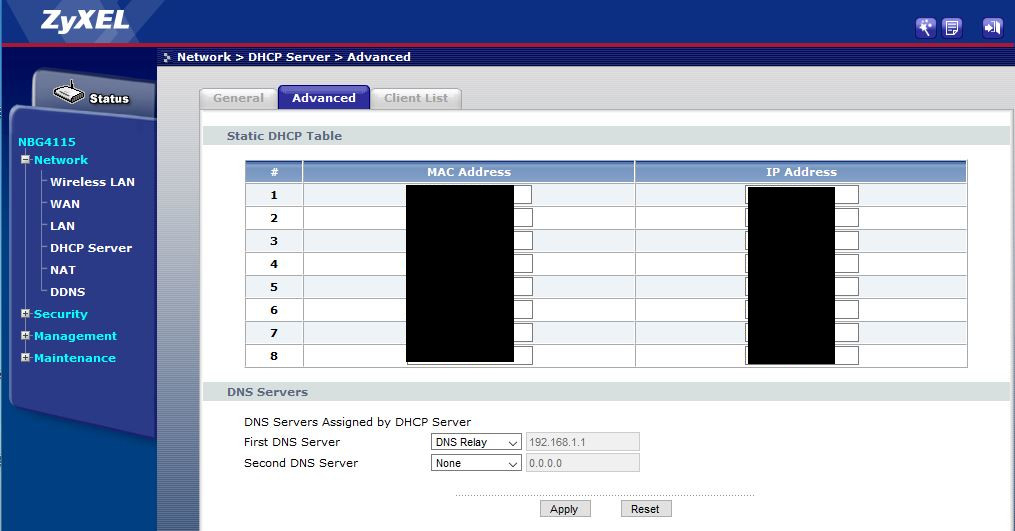 All Replies
Consumer Product Help Center

FAQ