How to use ZON to configure Zyxel device basic setting?
Zyxel_Silvia
Posts: 77


Zyxel Employee
Our ZON provide a useful tool to check the Zyxel device status.
When you meet one of the problem below, the ZON might help you to resolve some basic problem:
AP offline from Nebula
AP keep blinking yellow/amber and green continuously
AP didn't get IP correct
AP has IP conflict with other device
You want to login into AP admin page
…
You may download our ZON tool: https://www.zyxel.com/tw/zh/products_services/Zyxel-ONE-Network-Utility-ZON-Utility/
And use ZON to check the status of AP.
we suggest to connect your computer to the same switch with AP,
or if the AP has Lan port, you may direct connect to the AP LAN port through cable.  
Please mind you have to select the right network adapter 
(ex: Ethernet: intel Ethernet connection 
wireless: intel dual band wireless, 
it depends on the computer, you may check in Network connections.)

 After choose the right network connection, click clear and rescan now,
then you may find your Zyxel devices on the list.
 If your APs have IP conflict, you may use ZON to renew IP or configure another IP address.
If AP doesn't IP correctly (0.0.0.0), you can assign a static IP to AP.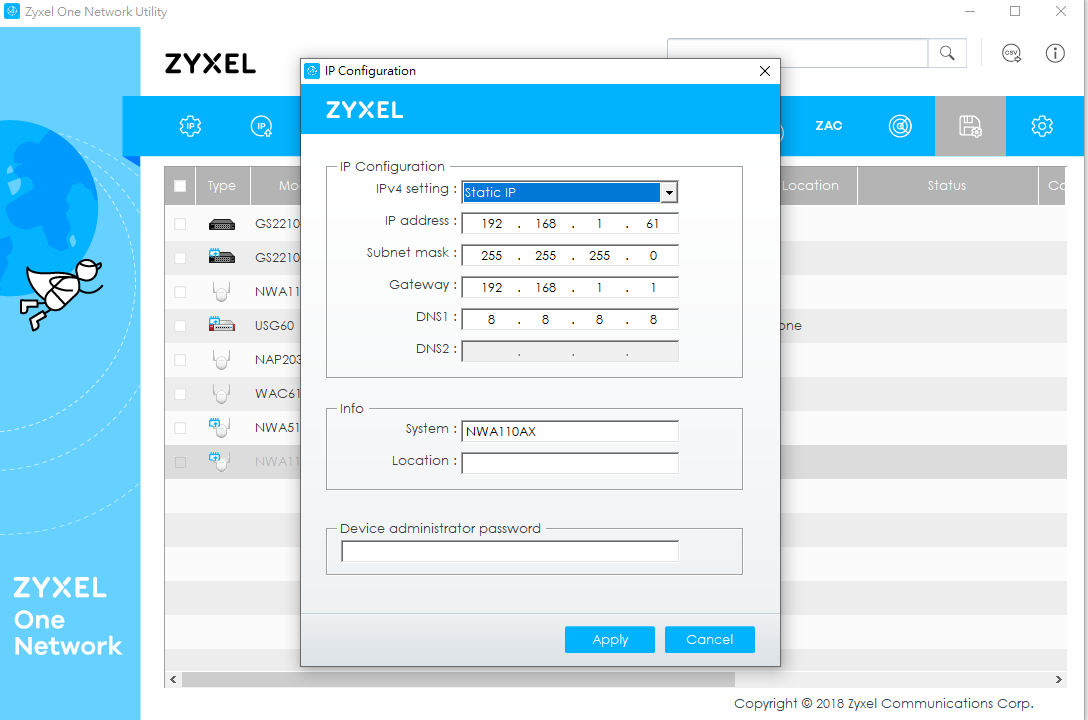 you may also use ZON to open Web GUI.
And also use ZON to upgrade firmware,
the latest official firmware can be download in Zyxel download library.
(If ZON can't work and your OS is Win 10, please refer this post: https://community.zyxel.com/en/discussion/2268/did-anyone-find-the-zon-utility-to-be-not-responding-sometimes)
Silvia
Tagged:
WLAN Help Center

FAQ

New & Release

Video Tutorials