What's New for Nebula Mobile App 3.0?

ZYXEL_Erin
Posts: 6




Zyxel Employee
Along with the release of P12 in Sep. at the end of 2021, Nebula has also rolled out a newly-revamped Nebula Mobile App 3.0, which focuses on the needs of small business users especially. It reorganizes the structure completely to improve the user experience by providing a brand-new, eye-catching user interface, a smoother flow design, and user-friendly features that help small business users maximize the value of using the app when managing their networks on-the-go.
Here, we will highlight some key improvements of App 3.0 and also provide a quick-check function table compared with Version 2.6 for the existing users.
Wizard adds more friendly guides and instructions
New Dashboard provides cleaner site summary and function access
WiFi page provides intuitive actions eg. create, disable/enable, share, delete
3-in-1 Devices list is able to add devices directly
3-in-1 Devices list is also able to get firmware notification and schedule an upgrade
New 3-in-1 Clients list with block action support
New 3-in-1 Clients page also supports Application Visibility and Control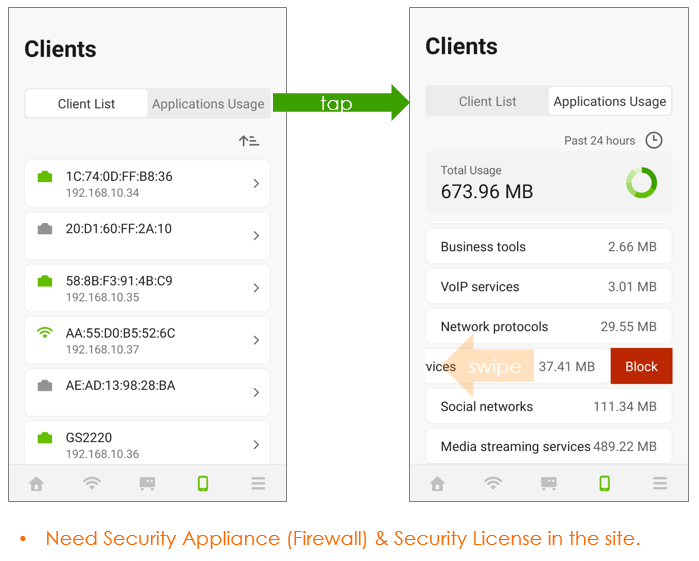 Account page provides License Plan, general administrative settings and simple support contact
The function comparison table of Nebula Mobile App



v.2.6

v.3.0

Wizard/Add device process

Hardware install guide

No

Yes

LED guide

No

Yes

Dashboard(Site Overview)

Device status

Separate by model

Centralized(3 in 1)

Client amount

Only Wireless

Wired & Wireless

Top Wireless client

Only amount

Amount with Usage

Top Gateway clients

Top 3 with Usage

No

WAN throughput

No

Yes

Site usage graph

No

Yes

AP dashboard

Top AP & Top SSID

No

Cloud saving mode

Warning message only

Warning & Banner (with setting)

Notification Center

VPN connection disconnection

Yes

No

License issue related

No

Yes

WiFi/SSID

Display list

Unfold 8 SSID by default

Able to create/delete

Share WiFi

No

Text messaging & QR code

Security options

Open
Enhanced-open
WPA1/2/3
WPA 2/3 with NCAS
WPA 2/3 with Radius

Open & WPA2(Private)

NAT mode

Yes

Coming soon

Landing page

Yes (Complicated)

No (Coming soon Simpler)

VLAN

Yes

Coming soon

Rate limiting

Yes

Coming soon

Device

Location Map/Sitemap

Yes

Yes

(Change & Search function coming soon)

Entry

From Home, Separate by model

Independent tab (3 in 1)

Search & Sorting

Only Search

Yes (Search function coming soon)

Details

Model name
Status
IP (LAN/Public)
MAC address
Serial Number
Configuration status

Model name
Status
IP (LAN/Public)
MAC address
Serial Number
Configuration status
DNS (GW only)
CPU Usage (GW only)
Memory Usage (GW only)

Edit name

Yes

Yes (also could do from Wizard)

License info

No (Only from License tab)

Yes

Tag info

No

Yes

Live tool

Connection Test
Reboot
Locator LED

Connection Test
Reboot
Locator LED
LED trouble shooting Guide

Usage graph

No

Yes

PoE consumption

No

Yes

Port info

Only Switch

Switch & Gateway

Port Details & edit

Port name
Enable
PoE
Link speed
Type
PVID
Allowed VLAN
PoE schedule
Cable Diagnostic
Power cycle

Port name
Port status
PoE
Link Speed
Type
Cable Diagnostic
Power cycle
(Port Enable, Speed & PVID, type, allow VLAN, PoE setting coming soon)

Client

Entry

From Home, Separate by model

Independent tab (3 in 1)

Search & Sorting

Only Search

Yes (Search function coming soon)

Client Detail

Name
LAN IP
MAC address
Seen on/Connected to
VLAN
Manufacturer


Name
LAN IP
MAC address
Seen on/Connected to
VLAN
Manufacturer
Connected time
OS

Usage graph

No

Yes

Application Usage analysis (per client)

No

Yes

Block action

Yes (Only from client detail)

Yes (Not only from client detail, but also direct from client list)

Application visibility view & Action (Per Site)

No

Yes

VPN topology

Remove from v2.6

No

License

Overview

Only NCC license

Yes (Including security services)

Further Details

Only issue status

Yes

License Inventory

No

Yes

License upgrade option

No (Force upgrade)

Yes

Add License process

No (Only support when adding devices)

Yes (Add batch licenses process coming soon)

Purchase license redirect to online store

No

Yes

More feature/Account

Admin Privileges

Only user-self

Able to see the whole org admins

Support request

MSP info
eITS (Create and view)
Forum

MSP info
eITS (Only create)
Forum

Change org/site name

Only site name

Yes

PoE schedule

Yes

No 

Push Notification

Device online/offline
VPN connection disconnection

Device online/offline
License issue related
Want to try the new Nebula Mobile App v3.0?  Go download/update your Nebula Mobile app now!Download here:  
Android version
iOS version
 Or scan the QR code

Tagged:
All Replies